19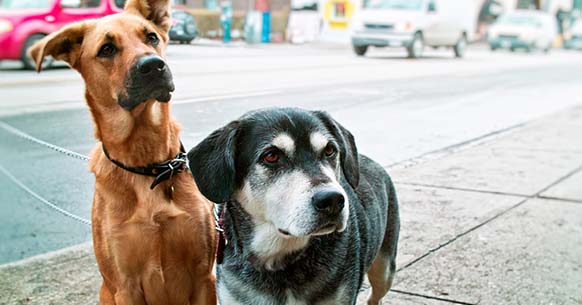 5 Proper Dog Walking Etiquette Tips
I live in a city that was named Dog Town USA. We have lots of paths, trails, and dog parks for our dogs to roam. Every day, I take my two dogs running with me on our local trail.
The other day, we were doing our usual routine: effortlessly moving left, moving right, and occasionally slowing due to congestion. A walker stopped to tell me how "well behaved" my dogs were, and that she couldn't imagine her own dogs ever behaving so well. This comment made me think about how my dogs became this way.
When I got my first dog (as an adult), I wanted to be a responsible dog owner. I wanted my dogs to not jump on people, to sit patiently while I talk to friends, to pass by other dogs without incident and to not pull on the leash. Through my experience with various training methods, I have learned many good tips for a well trained dog. Here are a few:
First and foremost, dogs communicate through the owner's energy. Basically, they feed off the owner's mood. Tension from holding the leash tightly transfers right down to the dog. A dog picks up on the owner's mood. The dog's behavior during a walk will reflect that mood further. Time spent walking one's dog should be a positive bonding experience.
Dogs need to greet other dogs properly. Their communication is through sniffing. They should start at the back and work their way to the front. Sniffing the back end sends valuable information about the other dog, including its gender, age, and health. Starting out, the dogs greeting time should be short (less then 5 seconds). Watch your dogs' behavior for clues of stress. If a dog's tail is down or his hair stands up at its haunches, the owner should take the dog away.
Verbal communication is valuable to make that great connection with our dog. They will learn good behavior from the owner, or unwanted "dog" behavior if left with faulty communication. If a dog is not told what is right, he will naturally be self-rewarding. Everyone tends to learn more effectively through positive praise. Speak with a positive tone of voice, have fun. Create a positive environment.
Dogs focus on movement. If you keep them moving they will focus on the walking with you instead of what is moving past them. If the owner stops, the dog will focus on the more interesting things. I cue my dogs with "on by" to know they need to go passed the distraction.
While out on the path, owners can work on connecting with their dog when faced with distractions, such as certain people or dogs walking by. For example, the "Puppy push up" (sit and down) interspersed with a stand to keep the dog focused. Take treats to have better focus, the higher value the better. I also like teaching dogs "on by" and teaching them "left" or "right" when faced with crowded areas.
A good dog is a happy dog.