13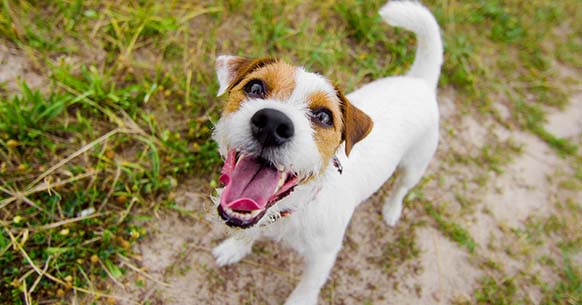 How To Stop Your Dog From Barking
Dogs bark. Yes, this is a pretty obvious statement to start off with, but I feel it's important to point out. This is something that dogs do. I am going to be talking about different ways to curb some of the barking, but always remember that this is a trait of the domesticated dog.
Why Do Dogs Bark?
There are a couple reasons why dogs bark. In a lot of cases a dog is barking because it either wants something to get closer, or something to get further away.
Here are some other reasons:
Attention seeking. (Give me attention! Give me a treat!)
Startle response. (Random noises)
Boredom (Lack of exercise)
Excitement (Someone coming in the door)
Frustration (Not understanding what you're asking)
Anxiety   (Separation anxiety)
Fear
As I've listed, there are many reasons why dogs bark. The first thing you need to do to help curb the unwanted barking is to identify what the reasoning is for why it's happening. Depending on the reasoning, there will be different approaches on how to handle it.
In most cases Positive Reinforcement takes place when the dog barks, which results in more barking. Positive Reinforcement (R+) is when the dog does a behavior, and the behavior gets the dog something it wants. When R+ takes place, the behavior is very likely to repeat. Also, when R+ takes place over and over for that behavior, the behavior often gets stronger and stronger.
How to Stop Your Dog From Barking (Or from Unwanted Barking)
One of the most important things to do to help curb that unwanted barking is to make sure the dog gets zero enjoyment for the behavior. As I mentioned above, if your dog does the barking and gets what he wants, he will do it again. If he does the barking, and it results in nothing good, the behavior should start to go away on its own. If your dog is barking at you for a treat, and you do not give him a treat, the barking will stop. (It may take some time if the behavior has had a reinforcement history in the past.) If your dog is barking to get someone to go away, and the person doesn't leave, the dog will learn that barking doesn't work, and in theory, the barking will stop. If the barking is to get the person to come to them, and the person waits for the barking to stop until coming to the dog, the dog will learn that barking doesn't make the person come, and actually being quiet will make the person come. These are just a couple examples. The overall idea though is to teach the dog that barking isn't the answer.
Here are some other ways to get barking to stop:
Put the bark on cue.
Develop a "quiet" cue.
Reinforce incompatible behaviors.
Increase exercise (physical and mental)
Prevention / Management  (blocking  windows)
Put the Bark on Cue
While this may sound a little silly at first, if you put the bark on cue, and are very strict with it, the theory behind it is the dog won't do it unless it's cued. To teach this you need to find a way to get your dog to bark. For some dogs knocking on the door will trigger a bark. What you'd want to do is knock, the dog would bark, mark the behavior verbally or with a clicker and then reward. Do multiple reps of that. Once your dog is responding pretty well to that, you can start using a verbal cue prior to knocking, mark and reward. You'd then want to fade out the knocking and your dog would do the behavior as you cue it. (This probably isn't going to work for most people, but it is an option.)
Develop a "Quiet" Cue
This is one that I use quite often. The way I teach this may seem a little counterproductive to start, but it works well in the long run. Here's how I do it: When the dog is barking, I walk up and say, "quiet" and then present a treat. The dog typically quiets down long enough to just take the treat and then go right back to barking. Do lots of reps of this. I want the dog to start to associate the word "quiet" with getting a treat. After you do enough reps, when your dog is barking, you'll be able to say, "quiet" and your dog will stop barking and look at you in anticipation of getting that treat. This is the behavior we are looking for. Once your dog responds to the quiet cue, you then want to start asking your dog to be quiet for longer periods before giving the treat. The overall goal is to be able to say, "quiet" and have your dog stop barking. You'll need to do lots of repetition with lots of reinforcement to make this work.
Reinforce Incompatible Behaviors
An incompatible behavior is a basically getting your dog to do something that he can't physically do while barking. An example is that the dog can't quietly look at the thing it was barking at, and bark at the thing at the same time. These are incompatible behaviors. One thing I like to do is teach the dog to look at the thing without barking. Here is a video I made explaining this:
Increase Physical and Mental Stimulation
A lot of barking happens because the dog is bored. The dog is bored because he has extra energy and doesn't have a way to exert it. It is said that 10 minutes of mental stimulation is equivalent to about 30 minutes of physical exercise. I'm a big fan of mental stimulation because it tires the dog out and also doesn't build the dog's stamina. Here are some forms of mental stimulation you can do with your dog:
Teach him to use his nose!
Make him work for his food or treats!
Teach him some tricks!
You can also work on regular manners / obedience training.
Prevent and Manage
This basically means that you're preventing your dog from doing the unwanted behavior while you're not present.
If barking out of the window is the problem, you'd want to either utilize a crate, or block the windows while you aren't there.
If your dog is barking while it is outside, either be out there with him, or don't let him outside by himself.
If your dog is barking because he's frustrated, lower the criteria.
The things I've mentioned above are some ways to help you achieve your goal of less barking. If you are dealing with fear or anxiety that takes a bit more work than what I mentioned above. Give some of the ideas a try to get your dog's barking to decrease. Be very consistent and give lots of reinforcement.