6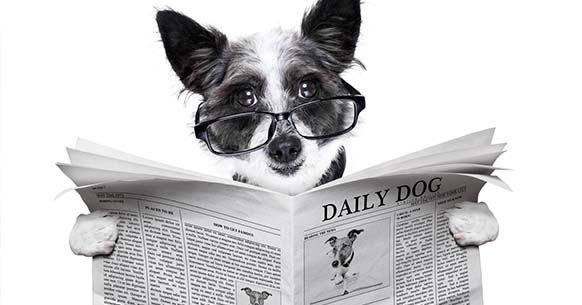 How Many Words Can Dogs Learn?
We don't speak dog. We definitely don't understand animal behavior. Dogs use a universal code to communicate with one another: body language, eye contact, vocal intonations, and intuition. Introducing dogs into human society has been a huge learning experience for both parties involved, but dogs have adapted well over the centuries from being village strays to becoming companions to performing in shows. Learning words has been an important factor in dogs' lives.
A dog can recognize an average of 160 words. Some words are easier to learn than others; for example, "walk" is associated with something dogs like to do, whereas the command "sit" is harder because it is based on a learned behavior. Puppies learn fairly quickly that there is a reward for good behavior and will start to associate a word with a behavior desired by the owner. We all use some type of positive/negative and reward/punishment system to teach dogs to associate sounds (or words) with behaviors; this is called "operant conditioning." Puppies learn that they receive treats when they do something the owner asks them to do, and they learn that the cookie is taken away from them when they do something that the owner does not want. Jean Cotes explains this in his Walking in Harmony program.
How we say words makes it easier for dogs to pick up on what is being taught to them. Tone, duration, and sound elicit different types of behavior. The emotional inflection of sentences spoken to dogs plays a big part in how they learn words. Watch how people talk to their dogs. Their sentences usually have a melody or mood to them; the phrases "do you want," "go get the ball," and "you rolled in poo!" are examples. High tones will excite the dogs; low tones will not capture their attention as readily. Drawing out a word emphasizes attention to the word: "staaaaaaay" will cause the dog to slow or stop what it is doing. Clicking and ticking sounds and quick, explosive utterances capture the dog's attention. These sounds are good to use when dogs are off leash and at a distance from the owner.
"Words" is a relative term; dogs learn sounds. Dogs are like sponges when it comes to learning. They have an unrelenting drive to please humans. Rewarding them for good behavior becomes a quick and easy way to teach them. I've known people who have taught their dogs words in German and English (bilingual dogs!) and others who have taught dogs the command "roll over" but have conditioned them to know that means to sit. The earlier you start talking to your dog, the better your dog will be able to comprehend your words.
As far as dogs learning words, some can even talk! Many people have watched the YouTube video of the dog that says "I love you." Some dogs even sing. I've spent many nights listening to my dog joining in on a husky session of singing while in agility class. Of course, they don't know what they're saying, but they learn sounds. They are watching and learning from our every move. What other animals have been at our sides for centuries, gaining valuable trust and providing companionship? Needless to say, dogs are smart, awesome creatures.