17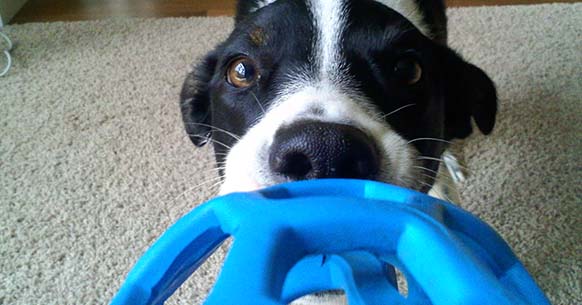 How dogs see the world – A look through the eyes of a dog.
At the dog park, I throw Cole his ball and can't understand why he passes over it so many times. It's right under his nose!  Why doesn't he see it? I hear other owners yelling at their similarly oblivious dogs, "Get it, get it!" It's right there. They are getting frustrated with their dog, some calling their dog stupid.
It doesn't make sense that dogs are supposed to have such superior senses and they can't see something right under their nose. Well, it turns out they don't see the same as you or me. Contrary to popular belief, dogs don't see in black and white. They see in muted shades of color. Our eyes  are composed of cones and rods. The distribution of these cones and rods are different in dogs; they do not have the sharpest vision, nor do they see with quality and detail. Dogs have less cones, more rods, and tapetum tissue cell for better night vision.
Remember learning in school that "cones are for color". Well, dogs are sort of color blind. Colors like green, orange, and red are most like shades of gray and brown. Blues, grays, browns and yellows are the primary colors dog see. "Behavior testing suggests they can distinguish red and blue colors but often confuse green and red."

More rods allow the dog to pick up on light and movement better. This also enhances their ability to see  by differentiating between shades of gray in dim light. This allows the dog to keeping their eye on a squirrel!
The tapetum tissue cell enhances the dog's vision in dim light. These tissues can be seen by shining a bright light into the dogs eye; the eyes shine back giving them a mirrored appearance. Although the tapetum tissue cells are good for night vision it scatters reflective light detracting from visual acuity.
Visual acuity is the ability to focus on an object and judging distance. Surprisingly, dogs have poor acuity compared to humans. What a dog sees at 20 feet, we can see at 90 feet. A dog's eyes are placed on the sides of their head, giving them better peripheral vision and a smaller focal point.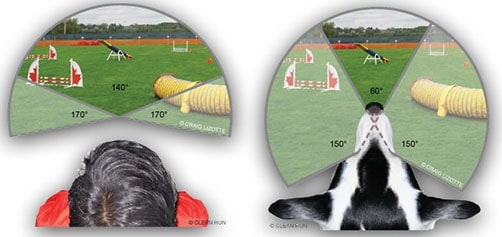 Many people buy toys without any knowledge that dogs have such severe eye sight problems. The dog toy manufacturers seem to create toys to appeal to humans. When buying a toy, consider where you are using the toy. Will your dog be playing with it on the grass, or chasing after it in the water? Blue is the better color for playing on the grass. As you can see from the picture above, blue feathers stands out better against the green palm branch. The red, yellow, and green colors are very similar appearing as muted shades of brown. In contrast to the grass, orange or yellow are better colors for toys thrown in the air.
The best thing to do is to have toys with multiple colors on them. A light and a dark contrast such as a pattern or patch or bull eyes on the toys will allow the dog to see it in either sky or grass. A plain black and white contrast would work.
Just like humans, dog's eyes have problems, too. As your dog gets older, his eyesight changes. Dogs' nearsighted vision declines starting at middle age, approximately 7 years old, so catching a small treat or walking down stairs might become more difficult then.
Cataracts are a common eye disease among dogs, causing clouding of the lens which can lead to blindness. There are a slew of other eye problems plaguing dogs, from simple allergic reactions to more extreme diseases, like Pannus, that can be devastating to your dog if it goes untreated.
It's a wonder dogs can survive with such poor eye sight.
The images inside this post are used with permission from the Veterinary Vision Inc. (Source: http://veterinaryvision.com/resources/what-do-dogs-and-cats-see/)