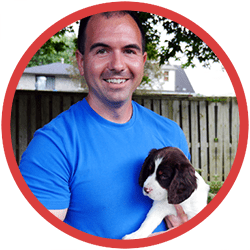 Jean Cote
Founder of Success Dogs
Animal Lover & Dog Trainer
A little bit about me…
When I got my first dog, Tobbie, it was love at first sight. He was a cute little off-white Lhasa Apso with a lot of energy, and a lot of personality!
My family and I loved him, but we didn't have a clue how to channel it through training. So we ended up with chewed furniture, ruined shoes, broken TV remote controls, and pretty much everything in between.
As a 12-year old kid, with no knowledge of dog training, I just wanted a best friend to connect with after school. Someone I could take out for walks, and hang out on warm summer days. But Tobbie and I could never connect like that.
He was too hyper! Too distracted! I couldn't even take him for a walk without him yanking and dragging me down the road while barking at everything and everyone.
It made me sad, but I started keeping my distance. When I moved away from home, I made a promise to myself that would forever shape my destiny. "That I would do whatever it took to learn how to train dogs, so that I could connect with my next puppy from the start."
And that's exactly what I did!
When I got my next dog, Onyx – a beautiful Siberian Husky, I applied what I had learned. I also immediately enrolled her into a prominent obedience training school. Not only did Onyx pick up the training quickly, but I found myself actually enjoying the bonding process!
We curbed unwanted behaviors like pulling, digging, barking, etc… And I found myself training all sorts of cool stuff through the application of Positive Reinforcement Training. Eventually, Onyx and I graduated Grade 4 of Obedience School (the highest level) in flying colors!
I then moved on to a new challenge – doing agility. Onyx responded incredibly well to the playful short training sessions we had together while training for agility competitions. We even won 1st place in our very first agility trial!
That's when I started developing my programs, and sharing them dog owners online! While helping with in-person training around my community, I decided to take my knowledge online, so that more people could benefit from it, more easily, and more affordable!
Today, I take great pride in my ability to help dog owners like you improve their relationships with their dogs, and stop the frustrating things that so often make the early years of dog ownerships more frustrating than enjoyable.