| | | |
| --- | --- | --- |
| | Attention Experienced Dog Trainer... | |
"Do You Want To Make Extra Income Helping Dog Owners Develop A Better Relationship With Their Dog By Teaching Positive Reinforcement Training Methods?"
Then Success Dogs is looking for your help!
From the desk of Jean Cote
April 9, 2015
Did you know there are approximately 525 million dogs in the world today? And from this gigantic amount, 83.3 million of those dogs are in the United States. In fact, 47% of all U.S. households owns at least one dog.
That's a lot of dogs!
However, many of those dogs will end up in shelters. According to the ASPCA, 3.9 million dogs enter a shelter in the United States each year, and 31% of those dogs end up being euthanized.
In fact, according to the National Council on Pet Population Study and Policy (NCPPSP) 95% of all dogs who are abandoned to a shelter had never received any obedience training.
Here at Success Dogs, we want to change that.
We want to help dog owners gain an understanding of their dog so they can live a long, prosperous and happy life.
And we believe that positive, force-free and reward-based training methods are the way of the future. That they create a lasting bond between dog and owner and that they're the most humane way of training, preventing and solving behavioral issues that are so often the cause of dogs ending up in shelters.
Hi, my name is Jean Cote and I founded Success Dogs last year in 2014. And although this seems quite recent, this endeavor was a lifetime in the making.
If you don't mind, I'd like to share my story with you.
As a young boy, I dreamed every night of getting a dog. I constantly thought about the joy and happiness that would come from having a best friend at my side.
How I was going to go to the park, play fetch and have lots of fun with my dog.
So I did what most kids do and begged my mother endlessly to get one. Unfortunately, her answer was always "no" because she was raising two kids on her own and really couldn't afford it.
However, everything changed one day when a friend was moving away and she had to find a new home for her 8-month old Lhasa Apso.
I saw this as an opportunity to finally get the dog I've always wanted, and together with my sister, we were able to convince my mother to adopt the dog, which we named Tobie.
Here's a picture of Tobie (it's an older photo of him taken years later, but I wanted to show you how cute he was.)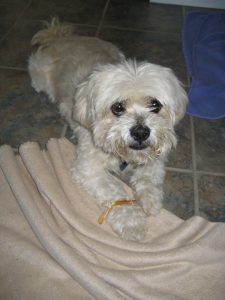 As you can imagine, I was ecstatic to finally get the dog I'd always dreamed of. To this day, I still remember how happy I was the first day Tobie came into my life.
He was like a bundle of energy... Running everywhere in the house and sniffing everything.
However, it didn't take long before reality struck...
Before we knew it, we discovered that Tobie had some serious behavioral issues. For example, he would chew on everything he could sink his teeth into. Every single day he would chew something when we were away.
It didn't matter if it was our shoes, the TV remove control or even a blue ink pen (which he chewed on top of our couch!)
He would often eliminate inside the house on our carpet, and if we tried to walk him, he would pull like crazy and bark at other dogs.
So we were totally overwhelmed, to say the least.
However, the worst part was that we had no idea what to do or how to solve Tobie's behavioral problems. And my mother really couldn't afford a dog trainer or dog training classes, so we were stuck.
And back then, there was no Internet like there is today. We had to rely on our relatives for advice on how to train our dog, which only made matters worse.
So as time went on, Tobie's behavior became worse and worse. Personally, I felt like a distance was growing between Tobie and I.
One part of me wanted to connect with him and be best friends. But the other part knew that everything I tried didn't work and only made him "hate" me.
(This was partially due to the training advice we had been given from our relatives, which were based on domination.)
So one day I gave up. I decided to let my family take care of Tobie and moved on to other things.
However, I did make myself a promise...
"That one day, when I could afford it, I would do whatever it took to learn how to train my dog."
So years later when I moved away from home, I decided to get another dog. However, this time, things would be different.
I started by getting my hands on every dog training book I could find, then I called every dog training school in my area and prepared for the arrival of my newest best friend, Onyx a Siberian Husky.
Here's a picture of Onyx at 8-weeks old (this was the first day I brought her home.)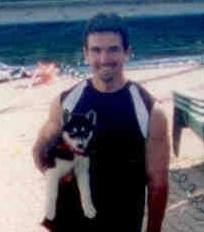 As with all Siberian Huskies, I had my hands full with training her. But I was dedicated and got her through all four grades of obedience school.
And I'm proud to say that she never once chewed on anything in my home. (Mostly thanks to learning about crating and using Kongs.)
I enjoyed training her so much that I started doing agility with her, which was quite a challenge since she was not know for being an off-leash dog.
But we did it, and even won our first agility trial!
Every night I would work on my training skills with her. I would train her to do fun things like carrying a lunch box, putting a ball through hoop and even playing chess.
And then it hit me...
I had finally gotten the dog that I dreamed of as a kid. And it was all thanks to the training methods I had learned by attending dog training school, reading dog training books and going to dog training workshops and seminars.
But then I started to think about all those other dog owners who are in the same shoes that I was as a child, with a dog that they truly love but has serious behavioral issues that is preventing them from truly bonding with their dog.
So this is why I created Success Dogs. So that I could help as many dog owners as possible experience this transformation with their dog, and also get their own "best friend".
This is why I'm writing you this letter today...
Because I need your help. You see, there are millions of dogs out there and I can't help them all on my own.
So I'm looking for other dog trainers who also believe in my vision.
Where every dog owner in the world can have access to the information they need to train their dog using positive, force-free and reward-based methods.
And ultimately, get the dog they've always dreamed of, they're very own "best friend".
Specifically, I'm looking for other dog trainers would would like to help me create content for the Success Dogs website, in terms of articles and videos.
As there are many ways of training a dog, I only want to work with dog trainers who trains dogs using positive, force-free and reward-based methods. And doesn't use or promote aversives, such as physical corrections, physical punishments, intimidation, domination, or any equipment that inflicts physical pain.
If this sounds like you, then we might be a great fit!
It's a win-win situation...
Over the years, I've made a lot of friends who are dog trainers.
And they all tell me that they'd love to create content for their own students, however, they simply don't want to take that time away from teaching or training dogs.
Time is money, as they told me.
Well, this is where we can help each other.
If you decide to create content for Success Dogs, you'll also be able to publish it under your own brand, website or give it to your students.
The only thing we ask is that you wait 30 days before publishing it, and that you include a simple link to the original content.
This way, you'll be compensated for the time it takes to create the content you create PLUS you get the ability to grow your dog training business.
PLUS...
All of your content that is published on the Success Dogs brand will be attributed to you and your dog training business. So it's a great way of promoting your dog training services and get more clients.
If you like what you've read and would like to become a contributor to Success Dogs, then please fill out the application form below.
I look forward to meeting you and discussing our first project together.
Sincerely,


Jean Cote
Founder, Success Dogs
[gravityform id=6 title=false description=false ajax=true tabindex=49]